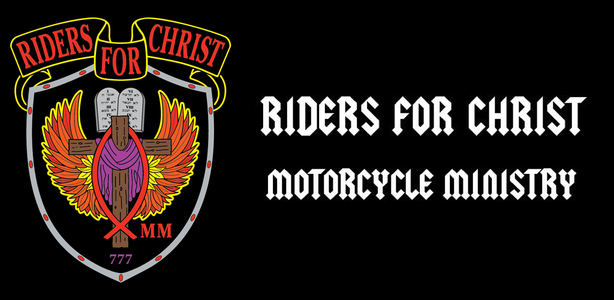 Riders For Christ Motorcycle Ministry (RFCMM) exists for the purpose of evangelizing and ministering to those in the motorcycle community.
RFCMM is a brotherhood of Christian men that desire to ride their bikes and participate in events which put them in places where God can use them.

RFCMM Statement
RFCMM is based, sustained and directed by the Word of God and not upon man's opinion or tradition. RFCMM holds the Bible as our primary authority and final source of teaching, preaching and ministry government.
1. We believe in the divine inspiration, truthfulness and authority of the Bible as the only written Word of God, without error in all that it affirms, and the only infallible rule of faith and practice.
(2 Timothy 3:16-17; 2 Peter 1:21)
2. We believe that there is one God eternally existent in three persons--Father, Son and Holy Spirit; who are infinite in glory, wisdom, holiness, justice, power and love.
(1 Corinthians 8:4-6, John 1:1, 14; 10:30-33)
3. We believe in the deity of our Lord Jesus Christ, in His virgin birth, in His sinless life, in His miracles, in His vicarious atoning death through His shed blood, in His bodily resurrection, in His ascension to the right hand of the Father where He reigns as King, and in His personal return to earth in power and glory.
(Hebrews 1:1-3, 1 Corinthians 15:3-6)
4. We believe that regeneration by the Holy Spirit is absolutely essential for the salvation of lost and sinful man, and that this salvation is received through repentance and faith in Jesus Christ as Messiah, Savior and Lord, and not as the result of good works.
(Ephesians 2:8-9; Titus 3:5)
5. We believe in the present ministry of the Holy Spirit by whose indwelling the Christian is enabled to live an obedient godly life, and to perform service pleasing to the Lord.
(Romans 8:9-10; John 16:7; John 14:26; John 16:13-15; Romans 8:14)
6. We believe in private and public prayer as a relational privilege of grace and as an opportunity and responsibility to participate with God in the accomplishing of His eternal purposes in Christ. Because we desire love and unity among all believers, we request that all prayer in our public meetings be offered in a known language.
(Hebrews 4:16, Colossians 4:2, 1 Corinthians 13:13
7. We believe in the resurrection of both the saved and the lost: the saved unto the resurrection of eternal life, and the lost unto the resurrection of eternal damnation.
(2 Thessalonians 1:6-10)
8. We believe in the spiritual unity of believers in Christ and that the Church, the Body of Christ, is Gods institution.
(Ephesians 4:3-6, John 17:20-23)
Mission and Purpose
Mission
Our vision is to be a men's fellowship ministry that provides a vehicle for Christian motorcyclists to help fellow believers grow in their faith and to empower one another to go out into the world to be the salt and the light for our Lord Jesus Christ.
God desires for all believers to worship and grow together in unity, even in the motorcycle culture which is often contrary to Christianity. Our goal is to provide an opportunity for Christian motorcyclists to grow closer to our Lord Jesus Christ and to each other. Our commitment is based on our Lord's command
"All authority in heaven and on earth has been given to me. Therefore go and make disciples of all nations, baptizing them in the name of the Father and of the Son and of the Holy Spirit, and teaching them to obey everything I have commanded you. And surely I am with you always, to the very end of the age." (Matthew 28:18-20 NIV)
Therefore, our mission is to lead people to a life of faith in Jesus Christ, being committed to God's Word, and progressively growing toward Godliness in our daily life - in all that we think, say, and do.
Purpose
This ministry exists by the grace of God, for the glory of God, which shall be the ultimate purpose in all its activities.
This ministry glorifies God by loving Him and obeying His commands by:
1. Being a worshiping fellowship, experiencing an awareness of God, recognizing His person, and responding in obedience to His leadership;
2. Developing the Saints to Christ-like maturity, and equipping them for ministry through Bible instruction and study;
3. Proclaiming, teaching, and spreading the Gospel of our Lord and Savior Jesus Christ in accordance with instructions, doctrines, and teachings of the Bible; to travel the highways and byways presenting Jesus to all who will listen;
4. Encouraging biblical fellowship by supporting and encouraging the common interest of the membership, through riding and other related group activities;
5. Serving unselfishly to other individuals, families, and other Christian organizations by providing for physical, emotional, and spiritual needs, in the name of our Lord and Savior Jesus Christ;
6. Promoting spiritual unity among all Christian motorcyclists;
7. Supporting and strengthening the local church; prayerfully and financially so that it may grow and be effective in fulfilling Gods purpose;
8. Purposefully being Christ-like in our daily living by emphasizing total commitment of life, personality, and possessions to the lordship of Christ;
9. Improving the image of those involved in motorcycling and portraying motorcyclists as responsible users of the road system.