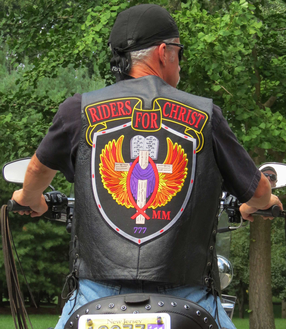 "Many people comment favorably about our patch. It has a lot of symbolism and colors in the design. We run a simple one-piece patch, that claims "no territorial" rocker, or "M.C." designation. Our colors have been carefully and prayerfully chosen so as to not identify with or antagonize any motorcycle club or riding club. The MM stands for Motorcycle Ministry. We minister to all motorcyclists."
The Stone Tablets are the 10 commandments. They are a "mirror" to show us that we have all sinned, and fall short of God's standards
(Romans 3:19-23)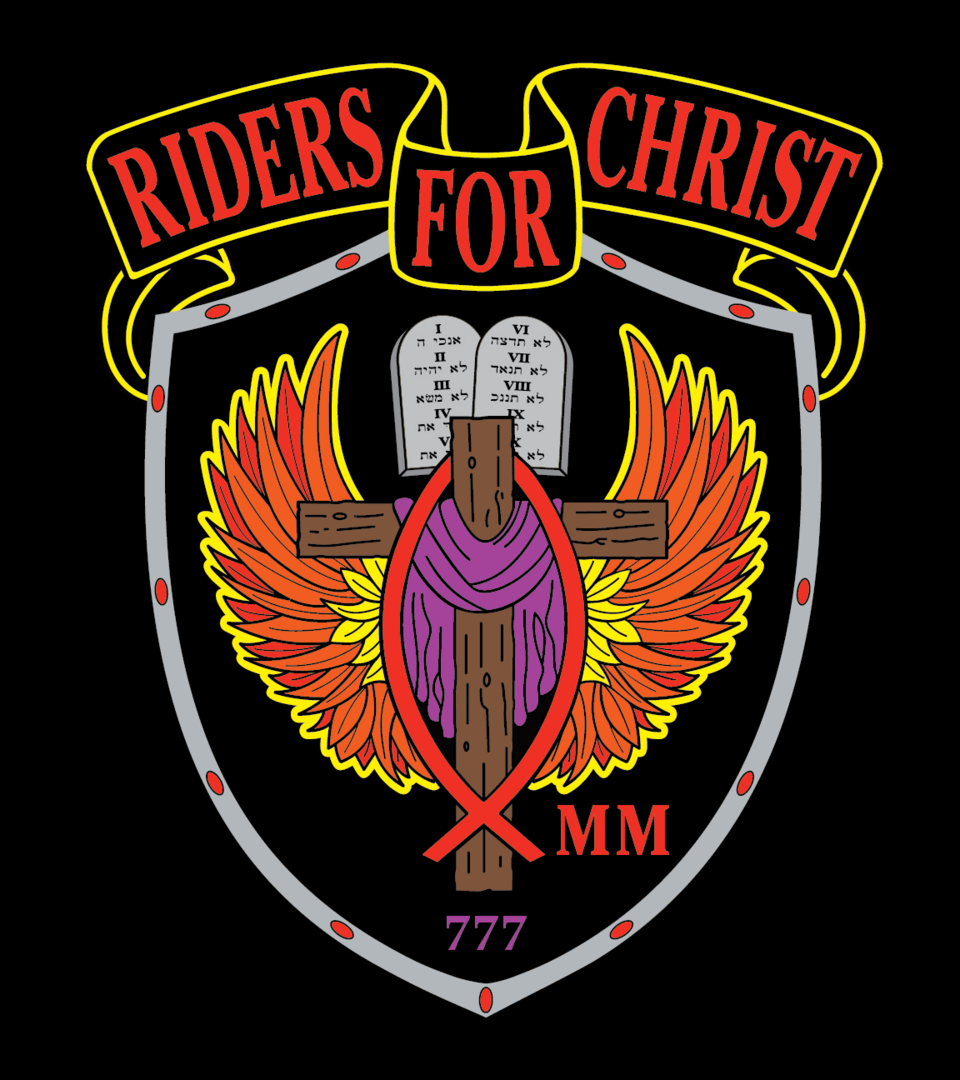 The Purple Robe on the cross symbolizes royalty. Our God and King sacrificed His only Son, our Lord Jesus Christ. Jesus was the only perfect sacrifice. He gave His life to pay the penalty for all our sins, a penalty that we can no way pay by our own means
John 3:16
The Cross is where something glorious, and something holy happened. The cross has become our bridge to God the father. When Jesus Christ died for us on the cross, His shed blood made us right before God, allowing us to come into God's presence.
Romans 3:24-25
The Wings are symbolic of the Holy Spirit's presence and power in the life of the believer. By the power of the Holy spirit we are to share the Gospel of Jesus Christ to everyone we meet.
Acts 1:8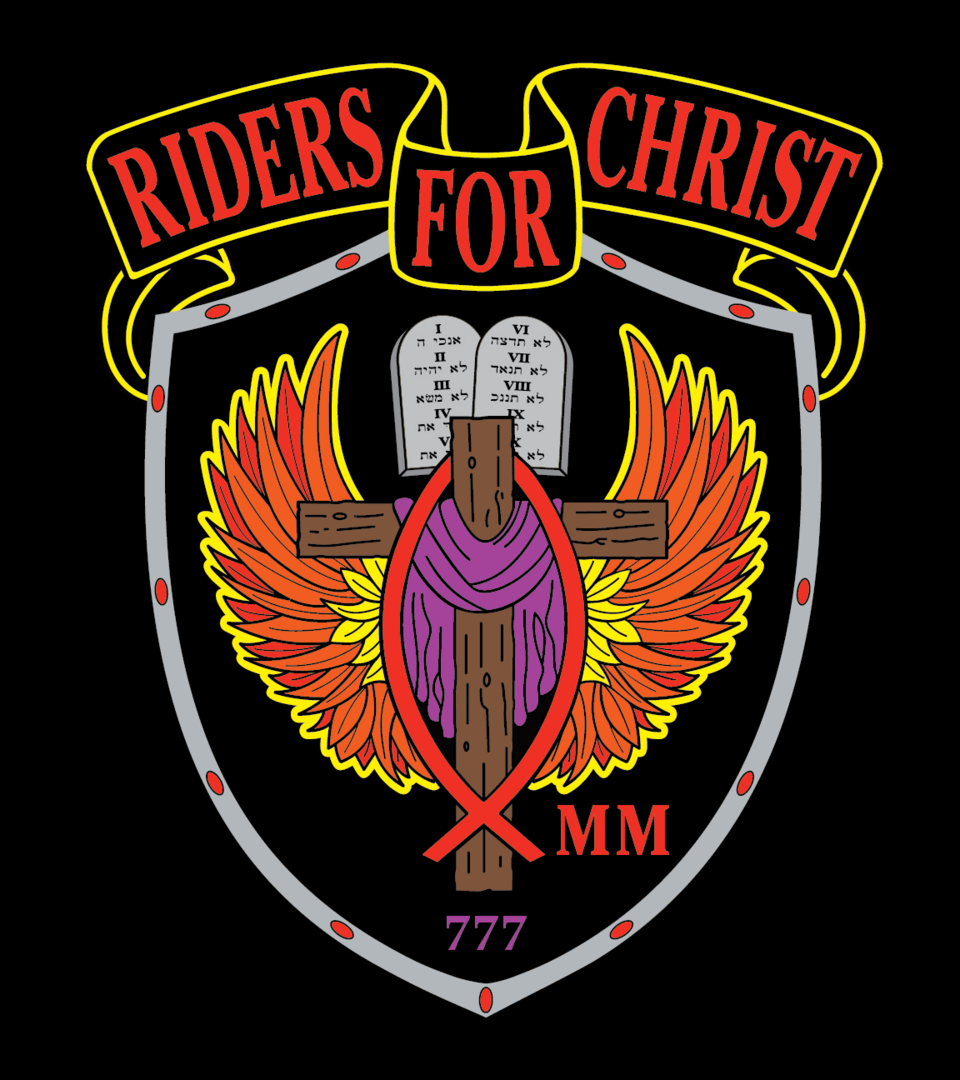 The Fish is called a Ichthys, a Christian symbol from the Greek word fish ( ΙΧΘΥΣ ). ΙΧΘΥΣ is an acronym which translates into English as "Jesus Christ, God's Son, Savior". The fish symbolizes the Christian, meaning a follower of Christ. It was not put behind the cross or in front of it, but it was put hanging on it because the cross is what our Christianity hangs on, without it there is no salvation.
The Shield is a reminder for Christians to daily put on the full armor of God and to take up the shield of Faith.
Ephesians 6:10-18
The "777" a trinity of perfection - God the Father, Jesus the Son and the Holy Spirit!
The colors yellow, orange and red together represents the flames of Hell from which we are saved.
Matthew 7:13-14
Besides the colors of the symbols, we have three dominant colors on our patch.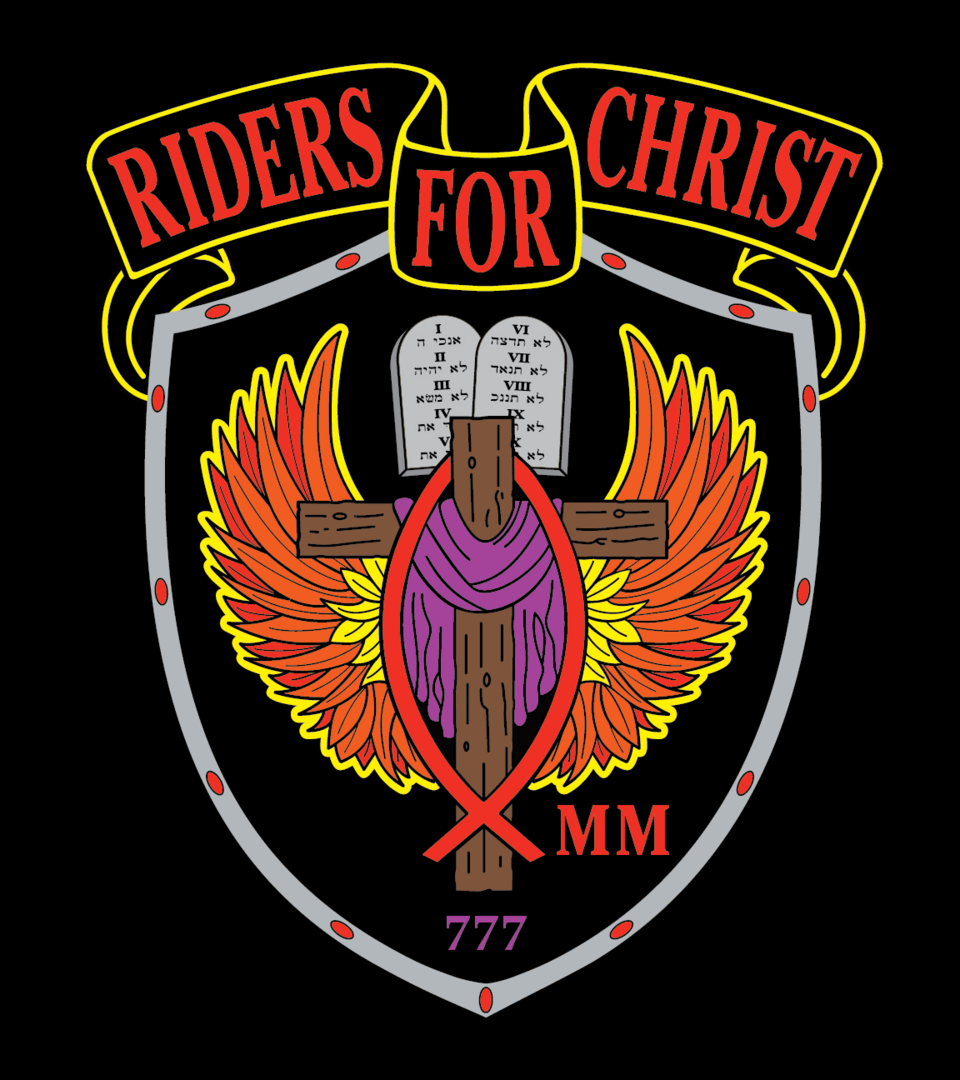 Black symbolizes Jesus' death on the cross and that we are to be dead to sin and alive to Christ.
Red symbolizes the blood of the Lord Jesus Christ whose blood was shed for the sins of the world. We acknowledge that we are all sinners (no better than anyone else), and that we too need the cleansing blood of Christ in our lives on a daily basis - cleansing & forgiving our sins - washing us whiter than snow.
Yellow symbolizes gold, our free gift from God is more precious than gold. If we accept it, His gift is heaven, where the streets are paved with gold.